Disclaimer : Having completed the Wild Atlantic Way in under a week I thought a reasonable time period to complete the North Coast 500 would be two days. However you will notice that this ride report actually covers four days – so what's that about? Well it's simply about travel. One day to get to the start and one day takes me home. So really it's a four day trip to Scotland, during which I completed the NC500 in two.
Download the NC500 GPS File Here : https://www.tbni.blog/downloads/North-Coast-500.gpx
Day 3 : 31/07/2016 : Scourie – Inverness : Day 3 of the trip and therefore Day 2 of the NC500 route. This section takes us from Scourie back to Inverness, finishing off the West Coast then taking in the North and East Coasts back to Inverness. The route for the day looks very roughly like :
I am sure you were always told when you were younger that breakfast is the most important meal of the day. If that's true then this Guest House will set you up well for the day ahead. A fry with homemade wholemeal bread and scrambled eggs. The eggs looked a bit runny, and were a sort of off grey colour, weird right? They were outstanding and I mean really tasty! The final bill here was £80 – the same price as the Holiday Inn, which did seem quite expensive given the size of the room and given that an average sized human couldn't stand up straight over the toilet or the right hand side of the room due to the pitched roof. A nice spot without doubt, with great grub, clean and tidy etc etc – just a little pricey.
The weather of the previous day continued throughout the night. Rain. This meant a wet start and the rain continued throughout the morning. It did dry up though just before we got to John O'Groats and the day remained fine for the trip down the East Coast.
Don't forget breakfast for the bikes as well…
From Scourie to John O'Groats the roads are just like they were yesterday – great. They were a bit more developed – a bit less raw – that suited the Kawasaki well but this is still a good rugged mountainous area with simply breath taking scenery. If you like waterfalls you are in luck here – there are numerous natural waterfalls peppering this section of the route.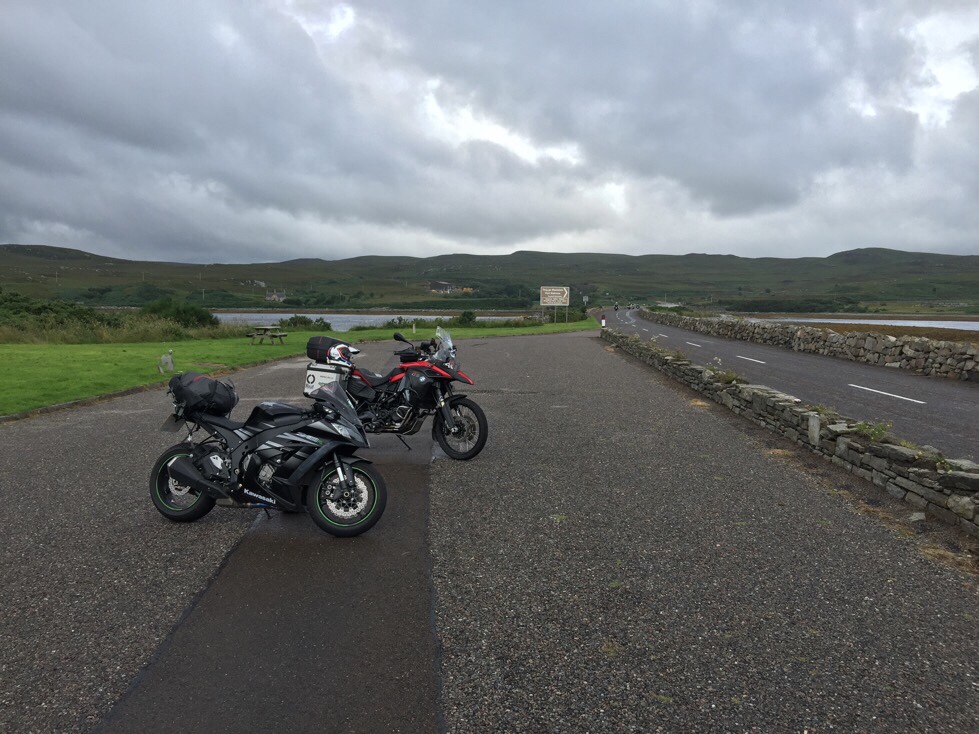 Our arrival at John O'Groats was in conjunction with a Land Rover Charity Run – there was about 200 of them and they had just completed a run from Land's End to John O'Groats over a couple of days. That route is also on my radar but I aim to do it in under 24 hours as another Iron Butt Association Challenge.
However all was not rosey at this point : Just prior to John O'Groats I heard a horrible metal on metal grinding noise coming from the rear wheel. The rear brake pads had gone, totally gone, absolutely nothing, and I had no spares with me.
Looking back I should have had them changed prior to the trip but I thought I was good – I thought wrong. From about Tongue right back to Inverness I had no rear brakes.
This took a bit of enjoyment out of the final leg for me as I do use the back brakes – I get that the vast majority of your stopping power comes from the front brakes – which were fine – however I use the back brakes as part of my normal riding – it comes from when I was learning and I find a wee touch of the rear brakes stabilises the bike nicely prior to committing to a turn / bend – it's a bad habit, but that's how it is and now instantly I have a couple of hundred miles to go and know I can't use them and that using them will damage my discs. What should be a bill for new pads could quickly turn into a repair bill for the brakes. Ask a smoker what it is like when they want a smoke but know they can't have one – a bad habit is a bad habit – but when we are told we can't it just gets worse.
From John O'Groats back to Inverness is the turn of the East Coast of Scotland. My mood was a bit dampened by the lack of brake pads issue – so maybe my opinion at this point is slightly skewed.
The East Coast of Scotland is still beautiful however it is a lot less rugged. The road from John O'Groats back to Inverness is the A9 – you can tell that from the name that this is an A Class road. It is well developed and very well maintained. For me it is a bit 'samey' but the Kawasaki loved it.
The West and North Coasts have obviously – since the dawn of time – been ravaged by the weather and the Ocean – that leads to stunning coastlines now add the Highlands in there and you have an absolutely stunning location. The East Coast has been much more sheltered by the Scottish land mass so is more refined in its beauty. It is absolutely worth seeing and doing as part of the NC500 however next time I could happily do Inverness – West Coast – North Coast – John O'Groats – North Coast – West Coast – Inverness – I doubt the Kawasaki would agree though.
Arriving back in Inverness to the hotel it was time for dinner. After a decent feed in the hotel restaurant it was time to get to the internet to solve my braking issue. It is important to have resources when you are out and about on the road on this occasion I posted to three well established forums that I frequently use – they are worth taking a note of – especially for any UK based enquiries…
1. Facebook : UK Adventure Riders
2. Internet Forum : http://www.adventurebikerider.com
3. Internet Forum : http://www.ukgser.com
The word came swiftly back from the internet to try BMW Motorrad, Mitchell's Motorcycles and BRC Motorcycles – only one issue with this – tomorrow is a Bank Holiday in the UK! Who will be open?
Scotland's North Coast 500 (NC500) : Day 3 Gallery
Flickr Album Gallery Powered By:
WP Frank