G-Shock 'CasiOak' GA-2100-1A1ER : Unboxing :
I have previously posted a review with detailed specs and technical data on a different colourway of the CasiOak GA-2100. You should have a read at it for more information as the only differences between it and this GA-2100-1A1-ER are the colours.
Read the TBNI G-Shock 'CasiOak' GA-2110SU-9AER : Unboxing and Review here.
But oh, the colours! This 'Blackout' GA-2100-1A1ER came with such unexpected hype that it was sold out globally for months. At the time of writing it is still sold out on the UK Official G-Shock Site.
This is not a limited edition watch but demand has been so intense that eBay scalpers have been selling the watch at many times the RRP (£99.90). That is thankfully starting to calm down now. My advice is simply 'wait out,' this watch will be restocked. Or do what I did and purchase from a European retailer. Zalando were selling this at slightly below UK RRP – but at the time of writing are also out of stock.
I touch on it in the linked review but just as a reminder, this is the watch that 'CasiOak' seems to pay homage to. This AP Royal Oak however will set you back £30,000!
There is a full range of the GA-21** series from G-Shock with a colourway that is sure to satisfy every pallet, the 'Blackout' model and the GA-2100-1AER (Black with white hands) are the ones that you will struggle to get (currently), so if you fancy one don't delay too much when they come back into stock. Don't buy from a scalper – that's the only way such behaviour will be eradicated, let them be out of pocket, not the genuine collectors / brand fans.
The official release from G-Shock says it all :
"This stealthy, all black timepiece embeds the latest carbon core guard technology in a slimmer more refined case. Taking inspiration from the 1983 original model, the DW-5000C, this watch gives homage to the much loved retro look with its unique octagonal bezel, framing an analog-digital display. As with the GA-2000, the GA-2100 has an interchangeable resin strap for customisation with any outfit and occasion. Despite its deceptively compact design, this watch is as durable and tough as any G-SHOCK on offer with 200 meter water resistance and shock resistance. "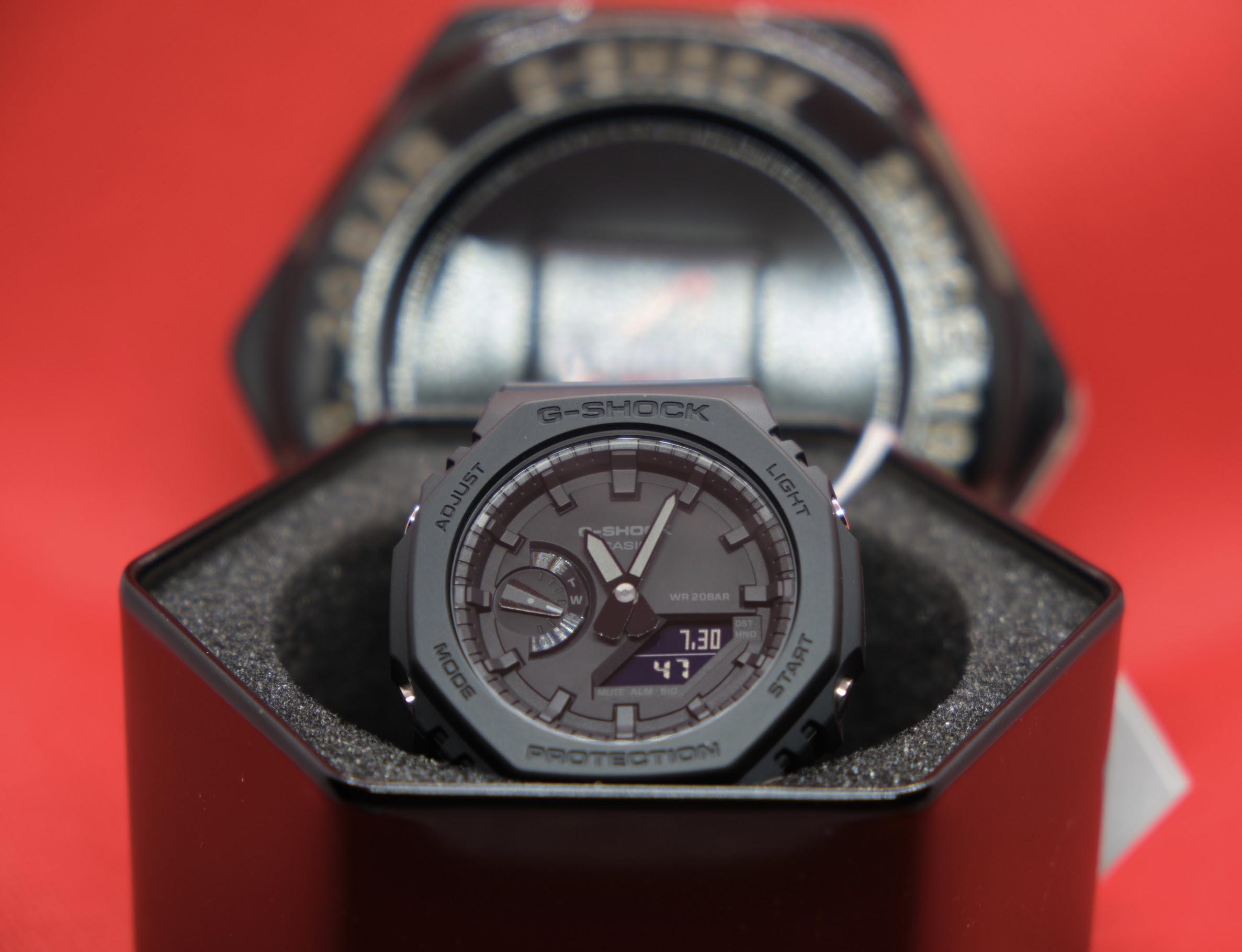 G-Shock 'CasiOak' GA-2110SU-9AER : Unboxing Gallery :