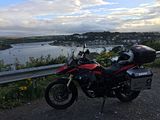 Today my journey along the West Coast of Ireland begins.
I was planning on waiting for the perfect weather but so far this summer has been terrible and there is no sign of an imminent improvement!  So I decided it was time to bite the bullet and go for it.  I booked the time off work and today is Day Zero.  I call it that as it isn't really a day on the Wild Atlantic Way.  It is just a day of travelling to get to the start of it. So after 260 miles and 1.25 tanks of fuel I finally have arrived at Kinsale, County Cork.
So far I have experienced every possible weather except snow and ice! The first 90 miles of my journey were wet, nah they were soaking wet, wet is actually drier that how wet it actually was!  If you can work that out, and as a chap in a garage said to me, 'At least it can't get any worse.'  After that it got dry and windy, which I welcomed as it dried me out quite nicely and just as I got dry it got wet again, only this time wetter!  Visibility was about 100 metres at best, it could only be described as grim, really really grim! Then I got to Cork, the rain stopped and the sun actually came out.
I arrived in Kinsale, Co. Cork which is a gorgeous little harbour town.  It has loads of quality Irish bars and with it being a Sunday night every one of them was pumping out live music, the town was buzzing!  It really is a crackin' wee place, with loads of bikes zipping about and loads of tourists hopping from pub to pub. I threw my stuff into B&B and found a chippy called Dino's and if you are ever here it is simply a must!
Then I took a walk about the town snapping a few photos before retiring for the evening to do this, update the Twitter and Instagram to set me up for a good night's sleep before actual Day One!