When I got my 2010 BWM R1200GS Adventure (in September 2016) it came with the stock tyres (I believe they were an optional extra – but they were fitted by BMW Motorrad) – a pair of Continental TKC80. Basically they are 'knobblies.'
That's fine, 'knobblies' have a very real purpose, but let's be honest most R1200GSA riders don't need them – note I said most. If we are being even more honest I also think it is safe to presume that most customers who put these on their R1200GSA are doing so cosmetically – they look cool. Again, note I said most.
I hated them.
They were noisy, bumpy and (for me) I felt they really lacked grip which meant I lacked confidence on the tarmac. I have no doubt if you were on something a little less solid than road worthy tarmac then they would excel, but for mainly road use – they simply were not for me.
I concede that they look cool, but I am well past the stage of wanting a tyre that looks cool – I just want it to stick really nicely to what is underneath that tyre – for me that is 95% tarmac.
So the first thing I did was change them and I opted for a set of Metzeler Tourance.
I know Metzeler Tourance pretty well, my Honda XRV750 Africa Twin has a set and my previous BMW F800GSA and G650GS both were shoed with the same rubber.
So after that purchase I was £194 lighter, but had a well tried, tested and importantly, trusted, tyre on.
Official Metzeler Tourance Site : https://www.metzeler.com/en-uk/products/tyres/tourance
8,304 miles later and they were done.
Pretty much completely done.
I think it is safe to say I got every single mile out of them.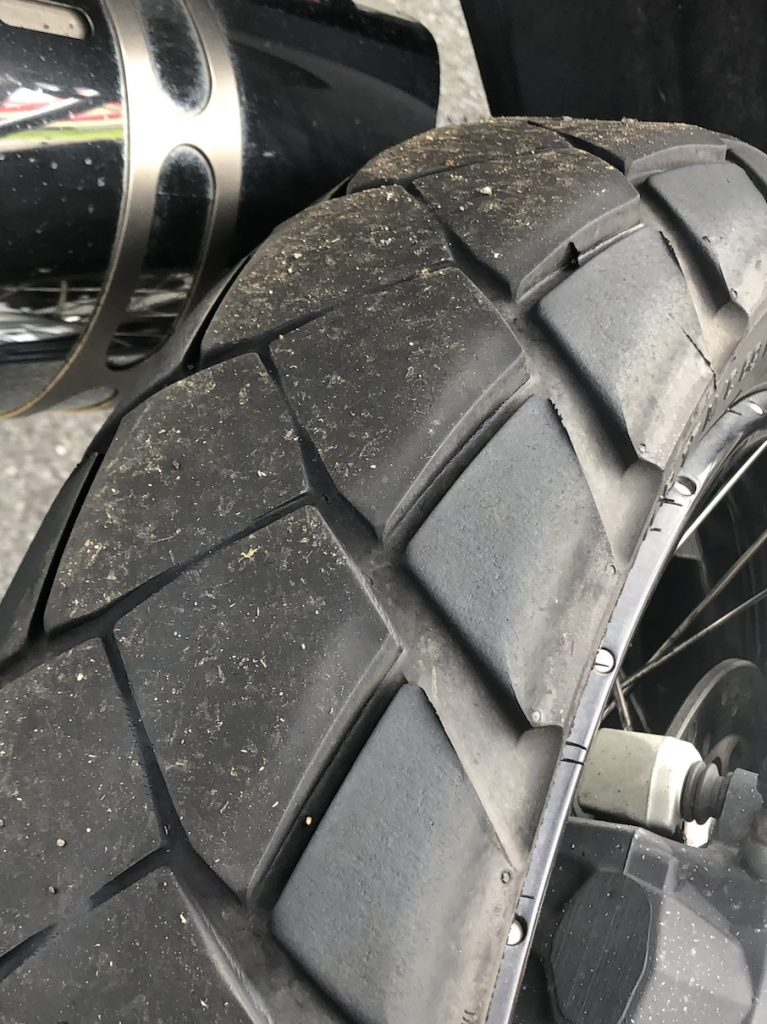 8,304 miles isn't bad, and the tyres didn't have an easy life. They experienced numerous sections of the Wild Atlantic Way in Ireland, 2 trips along the length and breadth of Wales, the Scottish North Coast 500 and 2 trips to the Isle of Man during the TT Festival. Add that to get to most of these places they had to go over many motorway miles – and there is no better way to square off or wear out the centre strip of a tyre (especially a big heavy adventure bike's tyre) as motorway miles.
All in all the Metzeler Tourance are easy to recommend.
They are great on the tarmac – I used them in every weather imaginable, glorious sunny days right through to a winter storm as I traversed Snowdownia National Park in Wales and just some good old fashioned rain whilst exploring the Irish and Scottish coastlines.
They are durable – excess of 8,000 miles is no bad thing for a motorcycle tyre. Although to be fair this set should have probably been changed about 500 miles previous.
Road noise : not an issue, the ride is smooth – noise is effectively unnoticeable. Silent in comparison to the TKC80 – but then that wouldn't really be a challenge.
Usage : On road they excel. This however is not an offload tyre, despite the reasonable cuts and tread pattern I wouldn't be opting for the off road route. Rough roads are fine, light gravel is fine – think Irish B Class roads – the sort with grass growing up the middle – you'll be grand. Mud, ruts, sand etc – I would be finding another path.
There you have it, I am on my fourth motorcycle on Metzeler Tourance tyres and I rate them highly. The question is would I buy them again? Of course.
Here is the interesting bit.. Did I buy them again? No.
The latest set of tyres I purchased are :
Michelin Anakee Adventure :
These Michelin Anakee Adventure tyres are the new stock option for the BMW R1250GS – they are designed to rival the Metzeler Tourance, maybe a little more off road bias but still a road tyre with some agressive styling, and a light off road capability. The cost for the pair came in at £186 (which included £30 cash back from Michelin).
So far I have put about 800 miles on them, I have another visit to the Isle of Man, Scotland and a few days in France planned so there will be a review on how this new offering from Michelin preforms, so be sure to look it up.
---