I have opted to call this day, Day Zero. That's really because it is a day that doesn't count. The WAW starts in Muff, Co. Donegal or Kinsale, Co. Cork depending on whether you are travelling north or south. Given where I live that meant a few hours travel either way and as I had opted for the South – North route it meant travelling to Kinsale, Co. Cork from Northern Ireland, about 30 miles north of the border. So I had about a four hour trip ahead of me. About 260 miles.
Pretty much all of these 260 miles were on dual carriageways or motorways and passed through 3 toll roads, each one costing a whopping 90 cents each. Not a big deal on one trip but I can see how this could easily mount up for local commuters. Thank goodness we don't have any toll roads in Northern Ireland. Yet.
I was all packed and ready to go, with only one problem, rain. It had been raining all day and although not heavy, when you factor in travelling into it face first at 70 mph it wasn't all that appealing. The rain continued, and continued, it became a case of having to go regardless. So off I went.
It's an easy drive from Northern Ireland to Kinsale, once you are on the A1, Southbounds, it turns to the N1 and then M1 Motorway, and basically you follow it to Cork.  There are plenty of rest stops should you need them and the roads are in great condition, even the dual carriageways seem landscaped with lush green trees on other side as well the central reservation.  It's a boring road but the novelty factor was there.  Unfortunately so was the rain.  By the time I got just passed Dublin I was pretty much drowned!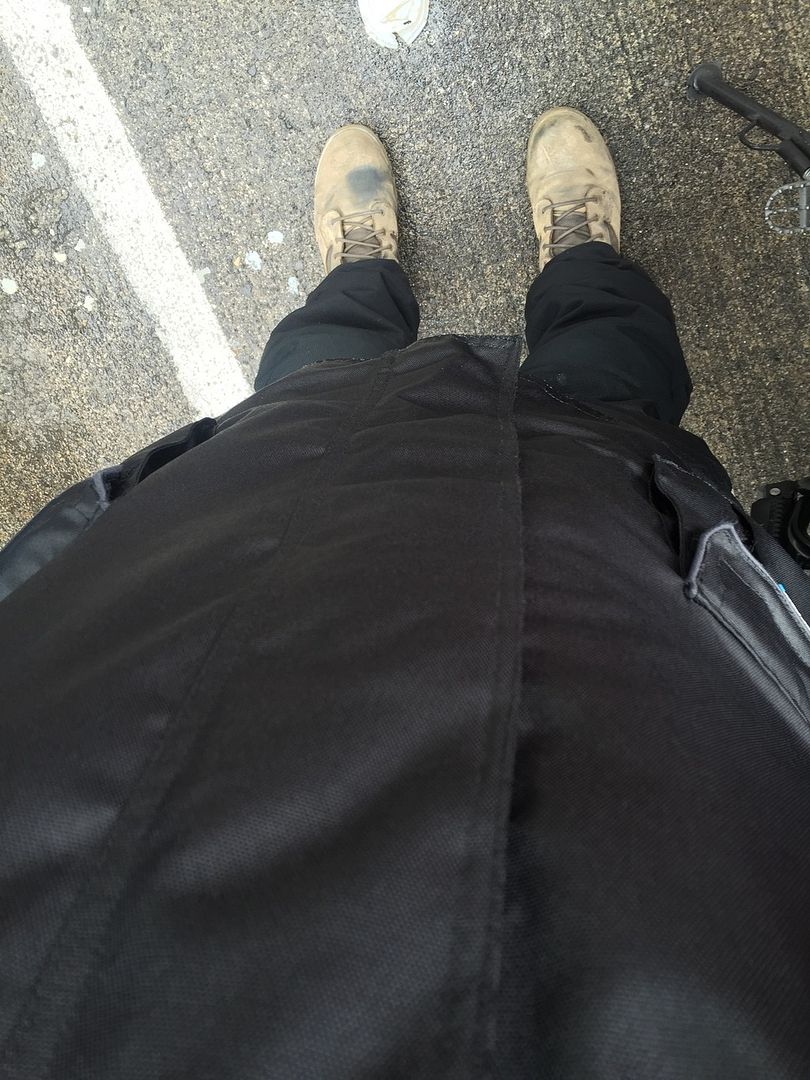 But just outside Dublin the rain stopped, it was a miracle.  I could carry on down the carriageway using the wind to get me back to some sort of acceptable dryness.  It worked, within an hour or so I was dry, expect my boots.  They were still blowing bubbles when moving my feet and by now the water inside them was cold.  Yuck!  But that's ok because I was dry again.  Not for long, the rain started again and chucked it down for another hour and a half or so, meaning all that drying I had done was in vain, I was wet again, back to very wet!  And in another twist of fate about an hour outside Co. Cork the rain stopped, the clouds parted and it got rather pleasant.  I was able to dry out again, and again I did.  The boots had no chance though, they were now making their own little puddles everywhere they stepped, but other than that the world was good.
I arrived in Kinsale and went for a quick lap of the town before finding my B&B.  It is a gorgeous little seaside town, and it was truly hiving.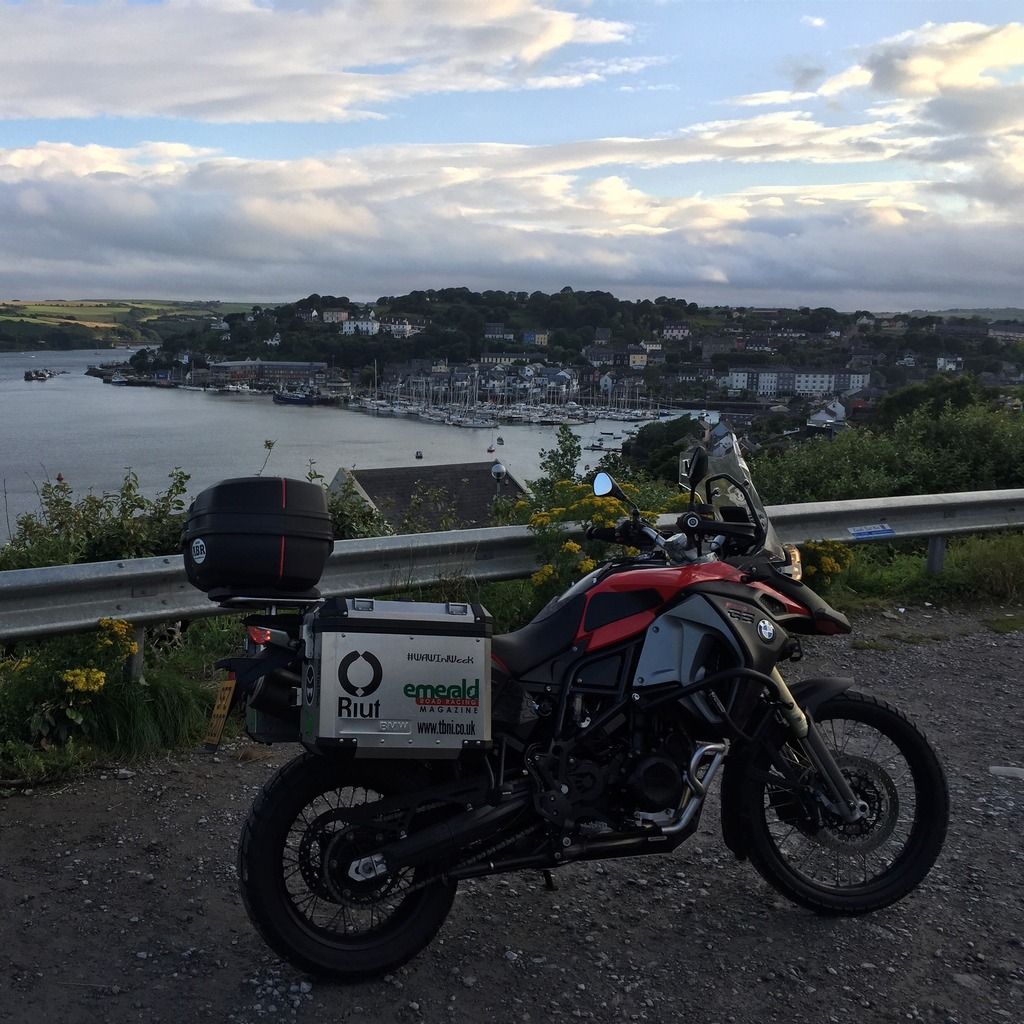 It had a proper seaside holiday town feel to it.  The sort of place you went with your Mum and Dad when you were younger (All of us 80s and before babies will know what I mean).  Oh and with it being an Irish town, there are bars and pubs everywhere and as it was a Sunday night the live music was pumping into the street.
I stopped at a chip shop / restaurant called Dino's and in all honesty the grub was amazing, sitting on the wall it was a lovely evening to be tucking into a chippy.  There was an attached Restaurant which was full, and even had a queue extending into the street.  This is obviously the place to be eating in Kinsale!
After a tasty feed it was off to the B&B, which was easily found, as it was bright yellow and on a corner.  A quick change of clothes and I went for a walk into the town to see what was happening.  It is all about the pubs, live music and craic, and it was a bustling hive of activity.  Really good to see such a small town prospering so well and this is a sight that is repeated all along the WAW, little towns thriving on tourism.  It was hard for me to believe I only live a few hours away and would never have thought of coming here for a trip.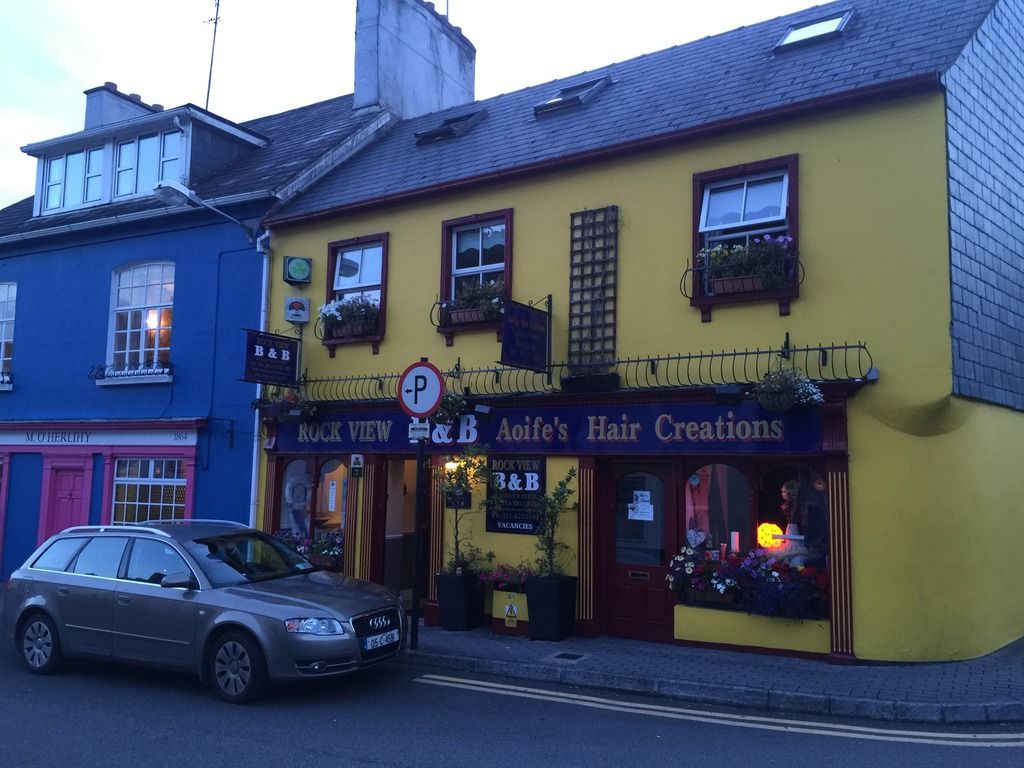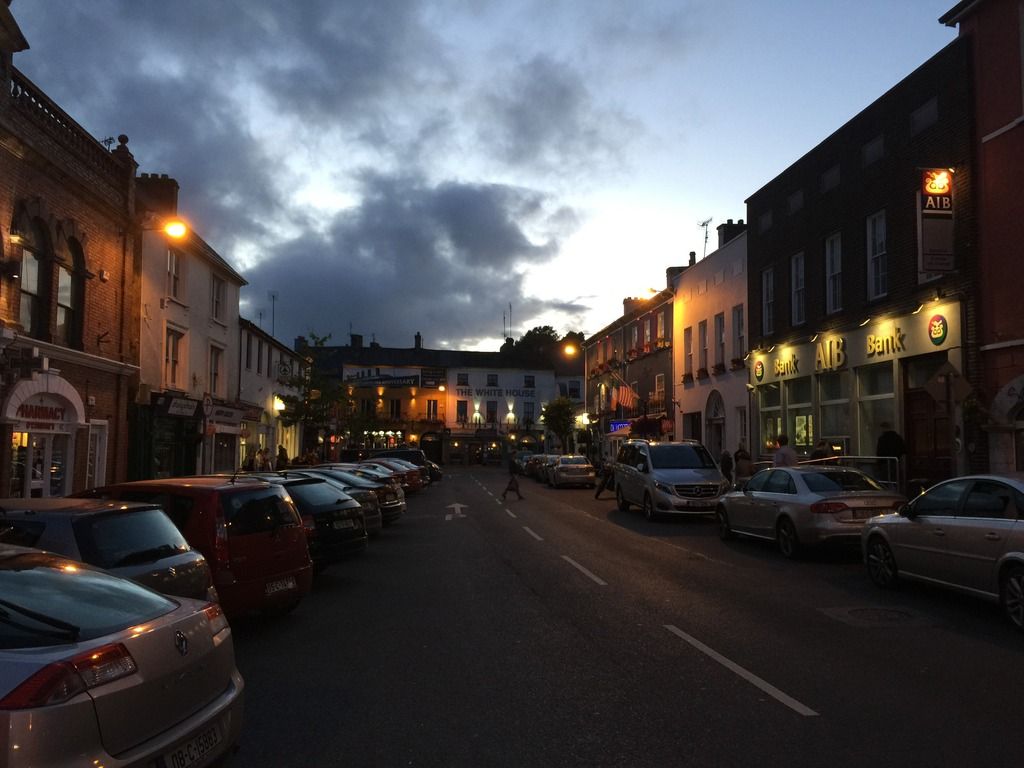 That's it for Day Zero!  Soaked, right through, twice, dried out, twice, nice feed, and now time for a rest.  Thankfully the B&B had a hairdryer, and I used it to tackle the wet boot issue.  It wasn't ideal, but thats the fault of the choice of boots, and I am sure any other residents were thinking, 'What the hell has that guy got the hairdryer going for now!' but needs must, wet boots are grim, so they needed something.  All I could do was hope that they were in a better state by the morning!
The Accommodation :
A nice, clean and tidy B&B.  My room had a Divan bed that squeaked with every little movement you made and possibly the world's smallest toilet.  Put it this way if I had to sit down it would not have been here as my legs wouldn't have fitted between the end of the toilet and the wall.  If they did fit the toilet roll holder would have been pressed against my nose!
One major good point was the breakfast was outstanding, couple this will the friendly staff and great little town it wasn't a bad place to stay.  It cost 60 Euro per night on single occupancy which was one of my more expensive nights, but probably the least luxurious, obviously the seaside town premium raises prices.
I would happily stay again as I stated it is clean, tidy and friendly with a great breakfast, just a little dated by todays standards.
Gallery :