Ireland's Wild Atlantic Way GPX File : The World's Longest Dedicated Coastal Route :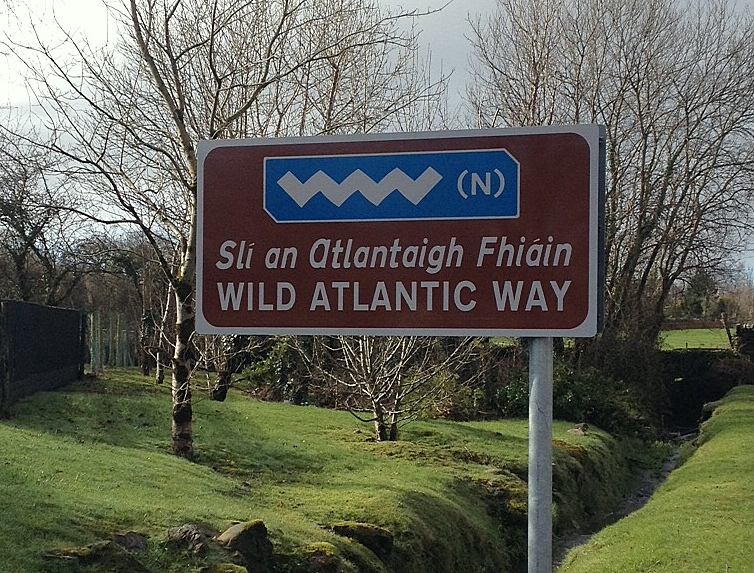 Firstly let me apologise.
"I'm sorry."
Why you may ask?
Well, simply because there is no GPX file here for you to download. So for that I am sorry, but wait! Before you run off looking for another source of a GPX file, let me tell you why there isn't one here… You simply don't need one.
Ireland's Wild Atlantic Way is the world's longest dedicated coastal route and at over 2,500km long you would think a GPS / GPX file would be useful, and normally you would be right, but not here. Every – every – single junction is signposted. Every 'Signature Point' (of which there are 21) is signposted and every 'Discovery Point' of which there are 159 is signposted.
You just don't need a GPX file or a sat nav to navigate the Wild Atlantic Way, so instead of worrying about watching a screen as you drive you get to watch some of the world's most stunning scenery as it unfolds around you for around 1,500 miles!
You will find the Wild Atlantic Way Official Website Here : https://www.wildatlanticway.com/explore-the-route
---
The Signs : Wild Atlantic Way (N) & Wild Atlantic Way (S)
The only decision you have to make is are you travelling North or South, once you have made that decision the route does the rest for you.
If you decide to take on the whole route and head North you will start in Kinsale, County Cork.
If you decide to take on the whole route and head South you will start in Muff, County Donegal.
Then simply follow the WAW(N) or WAW(S) Signs.
Obviously you can start anywhere on the route and head North or South and the same logic applies. If you want to go North – follow the WAW(N), and if you want to go South follow the WAW(S). The Northern route will always be sending to Donegal direction. The Southern route will always be sending you to Cork.
On long stretches of the road you will often see signs as the one below – these will be marked WAW(N) or WAW(S) and just act as a reassurance that you are on the right path. This format of sign may be on top of a 'mileage' sign, but it does the exact same thing, assuring you, you are not lost.
---
The Signs : Wild Atlantic Way (Not Marked North or South)
You will also come across WAW signs that do not have a (N) or (S) marked on them. Don't panic! You are not lost, and you are not heading the wrong way.
When you come across one of these signs it will be doing one thing, with two possible variants.
Firstly it will be taking you to either a 'Discovery Point' or a 'Signature Point'.
So now you know what it is doing, the next question is why? These Points will either be down a part of the WAW that once you get to the point of interest you will have to travel back along the same route, where you will then join the (N) or (S) route at the same point you left it at the unmarked sign, or it will be a loop road that will take you to a point of interest, the loop will then continue on and will end back where you initially followed the sign from.
At the end of such a 'one way up, one way back' or a 'loop' you will be met by a sign which will make sure you get back on the right track…
---
The Signs : Wild Atlantic Way Signature Points :
There are 21 Signature Points – these are the unmissable points along the route, although to be fair the whole route should be marked as unmissable, but let's be realistic, that just isn't practicable.
The actual point will be marked with one of these signs but as you approach them the 'Half Star Burst' Symbol will appear on other signs informing you that a 'Signature Point' is approaching. Do not bypass these points.
---
The Signs : Wild Atlantic Way Discovery Points :
In addition to the Signature Points there are over 150 Discovery Points along the Wild Atlantic Way. Each one of these is marked with a WAW Sign which has the point's name on it. The 'Discovery Points' will not have the 'Half Star Burst' signs, but that not does not mean they should be bypassed.
The 'Signature Points' also have one of these signs at their location.
---
The best advice I have for you is go out of your way to collect them all and if you like completing such tasks then you really need to look at getting yourself a Wild Atlantic Way Passport.
If you have any further questions on the Wild Atlantic Way route please feel free to email me or comment on this post. I have a lot of experience on this route, having completed it in on sitting and since spent countless hours and traveled many thousands of miles along it exploring it further.
You can read my #WAWIn1Week Blog Posts here :
https://tbni.blog/2015/11/17/the-wild-atlantic-way-the-worlds-longest-dedicated-coastal-route-in-1-week-wawin1week/
So don't worry about finding Ireland's Wild Atlantic Way GPX file, you honestly don't need it. The biggest difficultly you will have is deciding on what to do, where to eat and where to have a drink. The choices are going to blow your mind.