2022 Dakar Route Confirmed
The 2022 Dakar Route has been confirmed and this 'Edition' will follow a point to point style taking competitors from Ha'il to Jeddah through the 'Empty Quarter' of Saudi Arabi.
The event will run from 2nd – 14th January 2021.
Saudi Arabia offers an immense variety of wide open spaces and unique places to satisfy this thirst, even for the most demanding.


In terms of terrain, the route of the 2022 edition will be characterised in particular by a push into the Empty Quarter: a vast expanse of desert with sands and dunes that beckon the drivers and crews of the rally.
The Dakar 2022 is heading south :
To seek out challenges worthy of those who let nothing stop them in their tracks, the 2022 route will venture into the Empty Quarter, which is as sandy as it is mysterious.  Surrounded by vast stretches of sand and dunes, the experts in the saddle or behind the wheel will be able to take advantage of the landscape, provided that they put their navigation skills.
---
Dakar Classic : the passion for rallying is timeless :
In its first edition, the "Dakar Classic" category attracted around 30 vehicles from before the year 2000.
  
This year, regularity will no longer be the only evaluation criterion. On some sections representing about 20% of the course, only navigation will be judged: there will be no stopwatch, and each excess kilometre covered will cost the drivers points.
---
Key dates :
The registration for the Dakar 2022 and for the Dakar Classic will open on May, 17th. 
  
Discover below all the key dates not to be missed.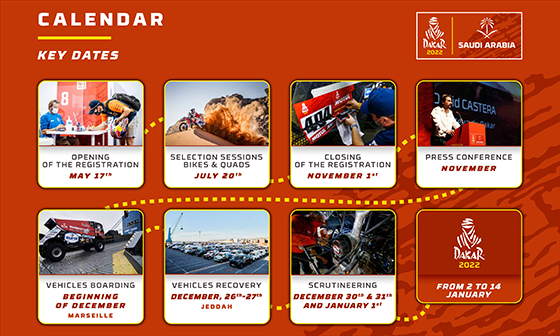 ---
Check out the Official Dakar Website here : https://www.dakar.com/en/
---