G-Shocks are without doubt one of the hardest, toughest and in my opinion coolest watches in the world.  Couple this with the oversized G-Shock range and the GA-100 series, in my book you are onto a winner every time!
This Christmas I was lucky enough to get another GA-100, bringing my total to 3 (Black, White and now Yellow!).  This time I opened the box to see the bright, and oh so shiny GA-100-9AER staring at me, that product code referring to the yellow model.
This watch is big, vivid and in your face!  If you can't handle that then this is not the watch nor the range for you.  However for me the fact that this watch is big, vivid and in your face is all part of what makes it so very very cool!
Here is my unboxing gallery :
I have now been wearing this watch for almost 2 months, it has been my daily watch since Christmas and has been worn in some strange and crazy circumstances. As you would expect from a G-Shock it remains unmarked, not a scratch. One point worthy of note though is something that I also noticed on my white GA-100 is that the strap stains quite easily and if you look closely almost looks a little grubby.
It seems to be transfer from clothing, and even though I wear it in the shower daily it does not remove easily. However you really only notice then when looking for it closely, to anyone else catching your watch with their eye it will clearly look bright yellow!
You can see what I mean in the photos below: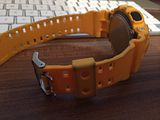 If you can deal with this then you are onto a winner with this watch, for me it is pretty irrelevant, I get G-Shocks to wear in tough situations and a little staining just tells the stories of where the watch has been, as well as that a replacement strap and bezel is only about £25 from Casio themselves, so wear it and enjoy it!