Like all motorcyclists and adventure motorcyclists we all love tinkering and new bits of kit. ABRs more than any I believe love protective stuff, little farkles that protect more expensive items on the bike, are reasonably priced but look mean! Let's be honest the look of the kit is probably its biggest asset, of course in this case we have a £40 unit protecting a £500 unit, but it looks cool and makes everything else look a bit more serious! And that is half the fun!
Don't forget the other half though! This is after all a serious piece of kit, it does have a purpose, namely to guard the headlight from stones and debris, and this piece of kit is serious enough to do it! From the second you take it out of the packaging you will feel how sturdy it is, it is obvious that this will protect your headlights from impact of flying debris and it will only have to do it once and you will be very glad you spend the cash!
For your info here are the details from www.ruggedroads.co.uk
Protect your headlights from expensive damage due to wayward stones and other detritus with our heavy duty polycarbonate guard.

We have redesigned our headlight guard to give even more protection to your headlights without defusing the effectiveness of the lights.

This polycarbonate headlight guard has been designed by us at Rugged Roads and is manufactured to the highest quality here in the UK.  We have made the fixing brackets out of Stainless Steel – and the guard itself from Makrolon®

Colour – Clear polycarbonate.

This item fits the following models:
– BMW F800GS – 2008 – 2012
– BMW F800GS –  2013 onwards
– BMW F800GSA – 2013 onwards
– BMW F650GS (Twin) – 2007 – 2012
– BMW F700GS – 2013 onwards
Installation is simple…
1.  The bike as standard :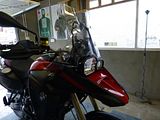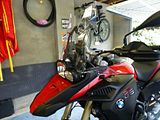 2. The Headlight Guard : (included assembled)
3. To install attach the 2 metal frames to the bike using the existing mounts :
Don't be trying to make the unit up first and attach, it is too rigid, attach the metal frames and then add the glass when they are mounted on the bike.
4. Enjoy the knowledge of safety of your headlight from loose trail debris, or just enjoy you now mean looking headlight!