As I have mentioned before I am a huge fan of Zagg and their InvisibleShield product, however from a little experience and some reading I decided to have another go with a Best Skins Ever for my new 6G iPod Nano.
Now I already have one of these installed on my MacBook Pro and I have to say it is perfect, from memory the install then took me almost 2 hours, but it is a big beast to be covering and I wanted perfection – with a little time and effort, that's what I got.
So why my affiliation towards Zagg when I have covered my £1980 laptop in a Best Skins Ever? The answer probably doesn't make much sense, the Zagg cover for the MacBook Pro was around $80, the Best Skins Ever was closer to $30. The reviews on the internet said they were pretty much the same, and as my laptops rarely leave the safety of my desk I decided to save a few $$$ and go with the BSE product. After all it was more to keep the MacBook clean and sparkly as it won't be going to far into the big bad world.
The BSE has been on the Mac for around 10 months now, and it is still exactly as it was when I put it on, perfect. And it feels smoother than the Zagg, there is no orange peel effect, it too is crystal clear, as far as the protection goes against scratches and such I can't comment. Thats why I sway towards Zagg, I have been using Zaggs on phones and cameras for years and have had some moments that would have destroyed an unprotected screen, and thanks to the Zagg everything has remained pristine. I have sold on old tech well above the market value because of the Zagg, when removed it looks like brand, spanking new! So there we have it I KNOW Zagg protects, I don't know that for BSE. Time to try.
In my new regime to get fit, I decided to quit smoking and start running, I already had an iPod Touch (3G) and after lugging that around for a few miles I knew I needed something more convenient, spet up please iPoad Nano. This little device is great for running as you really do forget about it and thanks to Nike+ it keeps track for everything for you, and that nice lady keeps updating you as to how you are doing, great stuff. Howver it needed some protection. The BSE was ordered and delivered to the UK for $9.49, the equivalent Zagg was coming in at $23.99, huge difference I'm sure you'll agree, both being the full body coverage.
The BSE was ordered on a Monday, and arrived the following Monday, the same sort of timescales that I am used to with Zagg, so no real differences there.
Now this is were the differences start. The Zagg arrive in a padded Jiffy bag, with a nice manufactured box containing the shield, an applicator, a micro fibre cloth, and an instruction leaflet. The BSE arrives in a white envelope, with an invoice and the shield…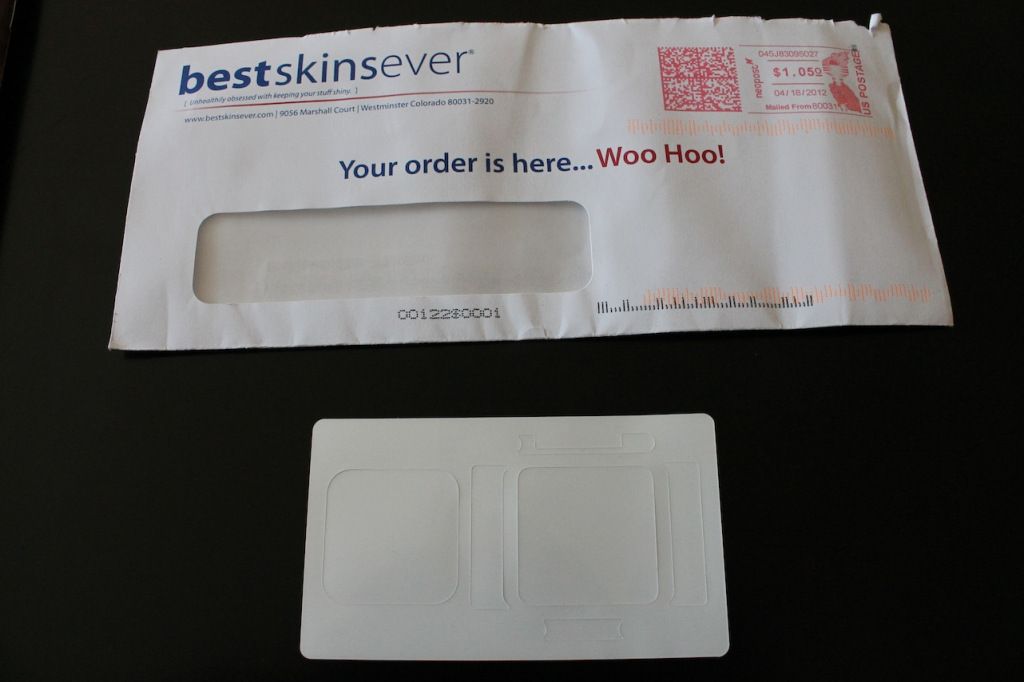 If you need instructions you go here…  BSE Install Instructions
But basically you need a cereal bowl or a measuring jug.
1.  Fill up the bowl / jug with water.
2.  Add a spoonful of washing up liquid to it, and mix it in, but don't be frothing it up too much.
3.  Add the liquid to a spray bottle and you are ready to go.
4.  Get a squeezee / credit card wrapped in a handkerchief
So now you carefully clean your device, wash your hands really well and start.
Make sure your device is off!
1.  Spray your fingers with the solution, and peel off the first piece of the skin.
2.  Spray the sticky side of the skin with your solution, I firmly believe the more the merrier.
3.  Allign the skin with the device and carefully place it on.  Use the squeeze and squeeze out all the air bubbles and excess solution, use a micro fibre cloth to catch any excess liquid.
4.  Repeat for all pieces.  Take your time and align things well, and squeezee well, the more time you take the better the results.
Remember when you are done the skin will still be wet, and there may be a few little air bubbles, these should disappear after around 24 hours, and the skin will dry to a crystal clear appearance.
Check out the full gallery of pics here: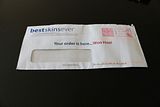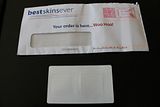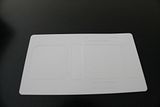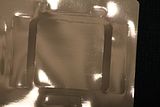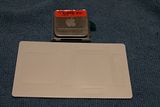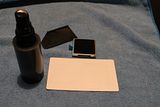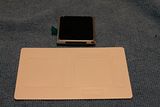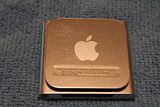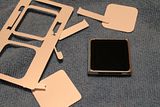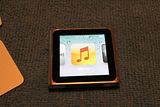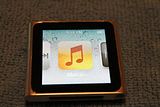 And here are a few pics of the iPod Nano with the skin having been on for around a week, and having covered about 35 miles of forest track running, I have had this clipped onto the collar of my T-Shirt, not exactly the driest place on earth when I'm running so needless to say at this stage I am more than suitably impressed!
Overall Scores :
Posting and Packaging : 2/10
Contents for Install 1/10
Quality of Skin 8/10
Ease of Application 2/10
Skin Resilience : 8/10
Skin Texture : 9/10
Overall : 8/10
There are some low scores there, but in relation to those I am comparing them with the Zagg product.  The overall score I think fairly reflects the actual BSE, it is great!  So what if it comes in an envelope, that keeps shipping low.  So what if it doesn't come with a solution, applicator, or squeezee, soap, water and a credit card are all that is required.  The texture and feel of it is great and it adds scratch protection to my gadget, that I like.  And the fact that it is so much cheaper than the Zagg all make a huge difference and mean that BSE is a definite competitor for me in the future to be considering!
Oh and one last thing, Zagg does come with a lifetime warrant for their skins, BSE do not, however to be fair I have never taken Zagg up on this offer, so whilst without doubt it is a good warranty scheme they have, I have never seen its benefits.
BSE – Definitely worth a go!