It is 29th May 2016 and the start of Practice Week for the 2016 Isle of Man TT Races.
It is also my first time over to the Isle of Man in many, many years, and actually my first time for any of the racing.
With it being my first time over I took some advice and went for Practice Week, actually four days of Practice Week.  The reasons behind this are…
 It's cheaper.  Much cheaper.  This year it cost £115 for the return sailing for me and the bike.
It's easier to get accomodation.  I picked up a '4 Star' (according to Booking.com) Hotel for £60 a night.
That totals up to £295 for the four days.  That's not too bad.
So I met up with a couple of lads and headed off to Dublin.  Reaching the ferry without drama and boarding the ship worry free.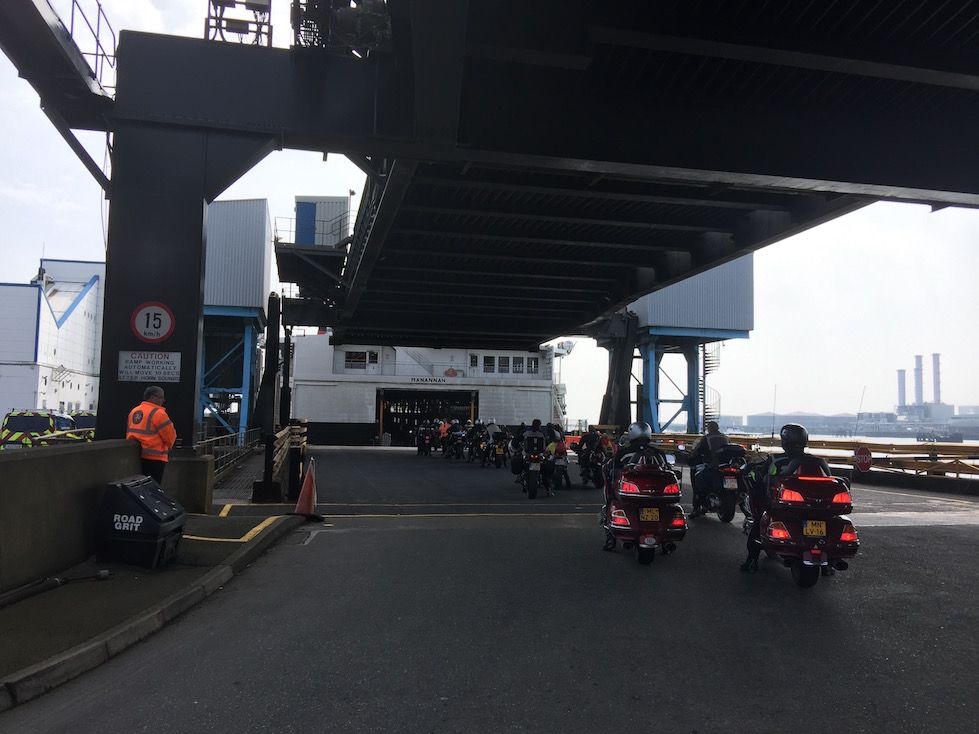 Here is where I meet my first (of few) difficulties.
I ended up on the side of the bike parking where the bike gets tethered to it's left.  The side with the side stand, the side I get off.  Of course by getting tethered here there is no room for me to get off and I have to get off the bike on the 'wrong side.'  If you have never done that before believe me, it is awkward as hell!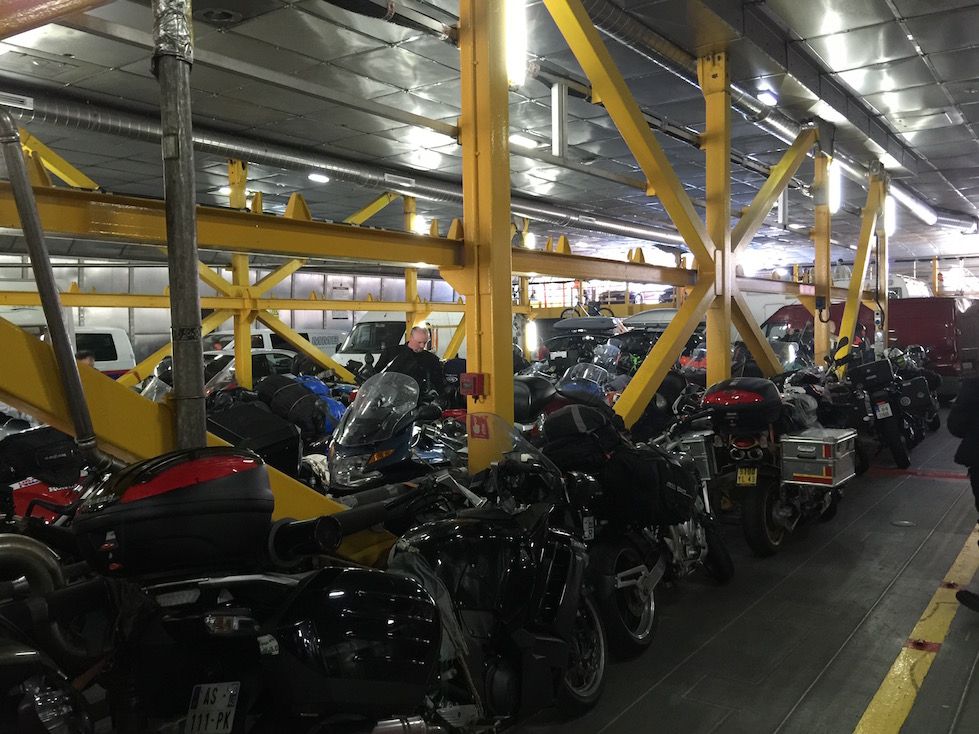 So after a major bit of speed and balance I am able to throw myself off the bike before it tips over on top of me and get her strapped down.
I also paid the few extra quid for the Lounge Seating.  It only costs like £5 each way but even if you want to go elsewhere on the boat it gives you somewhere to put your helmet and jacket and there are always members of staff about so your stuff will be safe here.  In fact I reckon it would be safe anywhere on the boat, but at least no one will move it as it is on your own specially assigned seat.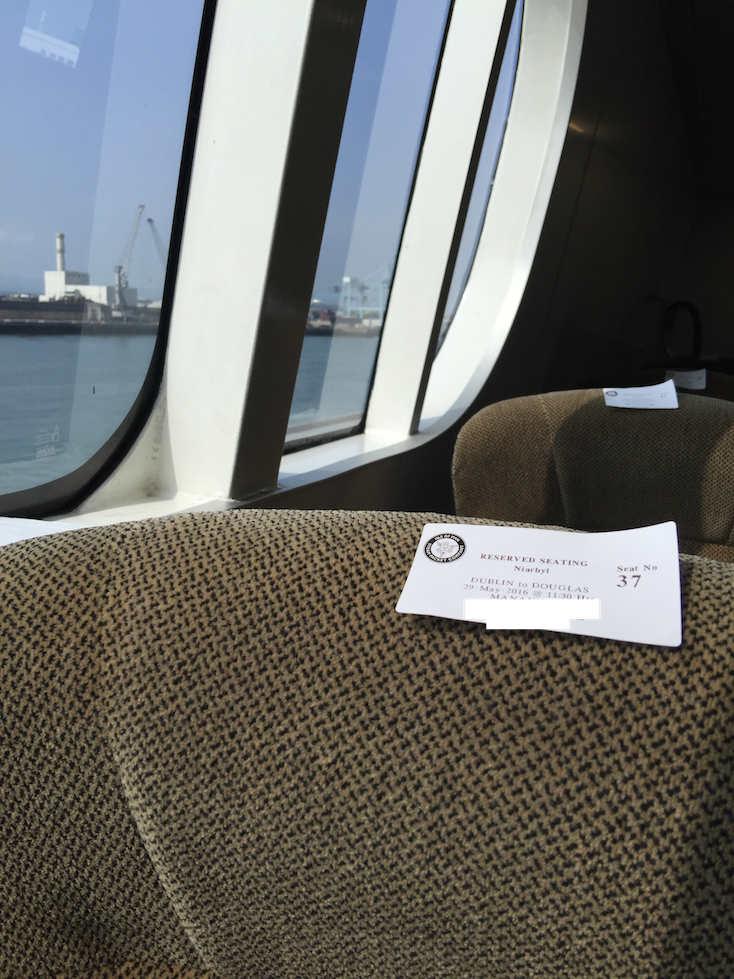 As you can probably see from these first few pictures the weather is glorious and it isn't a spolier in anyway in relation to this ride report, but it stays this way, pretty much for the entire racing festival, only Senior Day, effectively 2 weeks after this does cloud, mist and a little rain become a factor.
A few hours of perfect sailing later and we are docking in the Isle of Man.
The guys who I travelled over with aren't just as lucky as me, they have opted to camp.  I have opted to rough it in a hotel, so after a quick stop in McDonald's for lunch / dinner off they go to set up camp, and I go and take the opprotunity to check out where I will be resting.
For me it was the Mereside Hotel (Rosslyn Annex) http://www.hqbar.im/ and from the second I booked in the the second I left I can only say it was excellent.  The service was friendly and helpful, the room was clean with everything I needed and more.  The wifi is fast and free and the romms have Freeview TV.  Even when I was leaving I was offered storage for my gear so I could enjoy the day without the burden of the fully loaded motorcycle.  This spot is easy to recommend, and I will be staying here again in 2017, and hopefully 2018 onwards, so please don't be booking it until I have!
So I checked in and sat down with a Coke, waiting on the other lads to pitch a tent, unpack… all that time consuming stuff, when you could be relaxing…
My first impressions of the island are…'This place is great, it is a proper seaside resort, just how I remembered it.'  You can see the sort if multi storied buildings that line the seafront in the above photo, but it is more than that, it has managed to retain its seaside charm, it's hard to explain, it's just right.
As I finish my Coke the other lads rock up.  Obviously camping in weather like this is no bad thing, I can see the draw of it, but to be honest I am happy with this place, and I know that after a couple of days of lying on the ground I'd be more than chuffed with the double day I have got for myself.  Now I don't even have to worry about it.
But onto the more important things.  It's Sunday so there is no Practice Session tonight, that means the Mountain Road is open.  I have heard a lot about it.  It turns into a one way system, that has no speed limit.  Really.
We start from Douglas and start following the course.  Here's some great and free advice.  Please heed it.  Don't Speed.  The Isle of Man Constabulary are everywhere and they will book you without excuse.  It is black and white.  Go to fast, get a ticket…or worse!  Just enjoy the course, when you get onto the Mountain Road there you will have the opportunity to go as fast as your head or machine will allow you.  Hopefully your head will be the limiting factor!
The course is great, all the signs are up, the markings the towns and villages are all there just as you have seen probably thousands of times on the TV and YouTube.  The grandstands, official and resident build are all there and advertising their availability then you reach a Police car and a massive sign with an arrow signifying you are now on a one way system.  It starts getting louder, but at this point there is is still a speed restriction.  It is only after the big hairpin and another 30 / 40 / 50 mph zone that you hit the 'Nationals' and the speed limit no longer exists.
The rip from the bikes is unreal as off they go…
Sports bikes just lit.  It's honestly mental.  Here's me sitting on a BMW F800GSA, with the aluminium panniers still on her, and all I am thinking is 'Holy Shit!'
But it isn't only Sports Bikes, there is everything here, cruises, adv bikes, two up, classics, cars, convertibles, vans… everything.  It is mental.
The hardest thing I found was that the right hand side of the road is now also usuable.  That white line down the middle is now irrelevant and more of a disatraction than anything else.  I found it almost impossible to cross over it and felt uneasy when I did.  That's something that takes some getting used too.  Taking corners you can see round on the 'wrong' side of an open road just seems wrong.  Wow.
Then you reach the 'Bungalow' and things get calmed a little by cones.  This is like a stopping point.  The Joey Dunlop Memorial is here and loads of people just standing about having a chat.  Oh and a Police BMW X5 is watching proceedings.  That too makes you feel uneasy.  Bikes are whizzing past the Police at 150 mph and that's just how it is!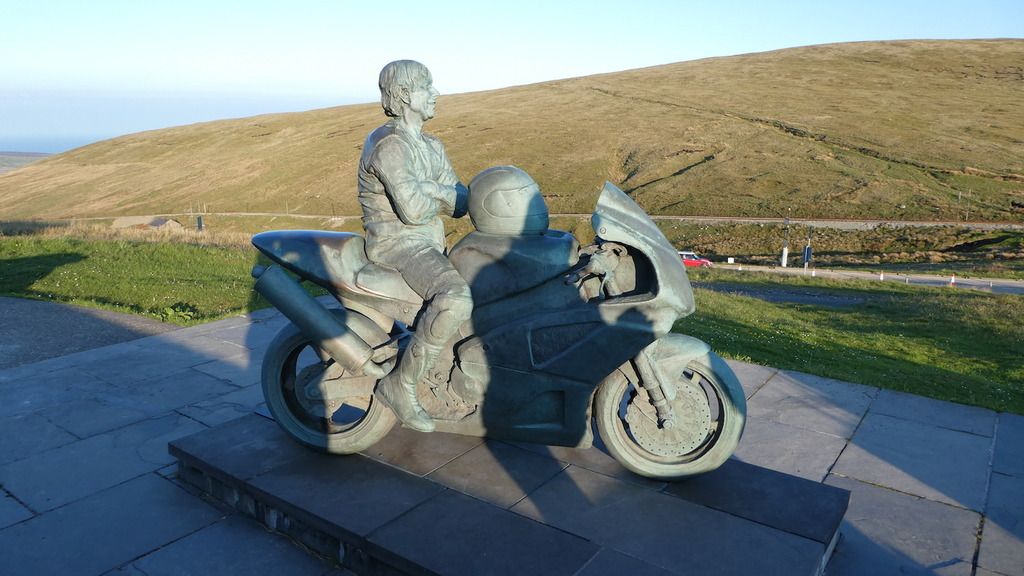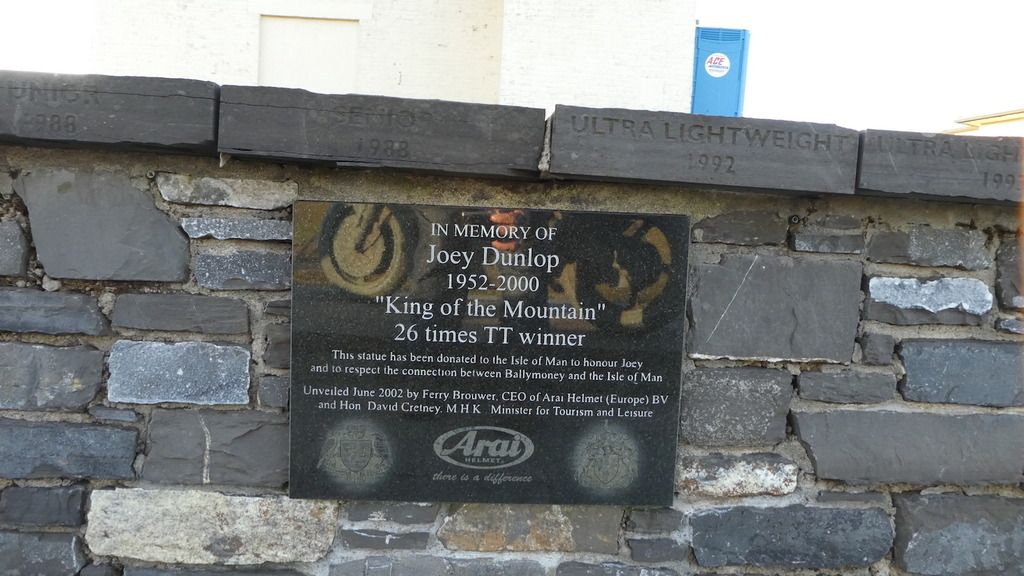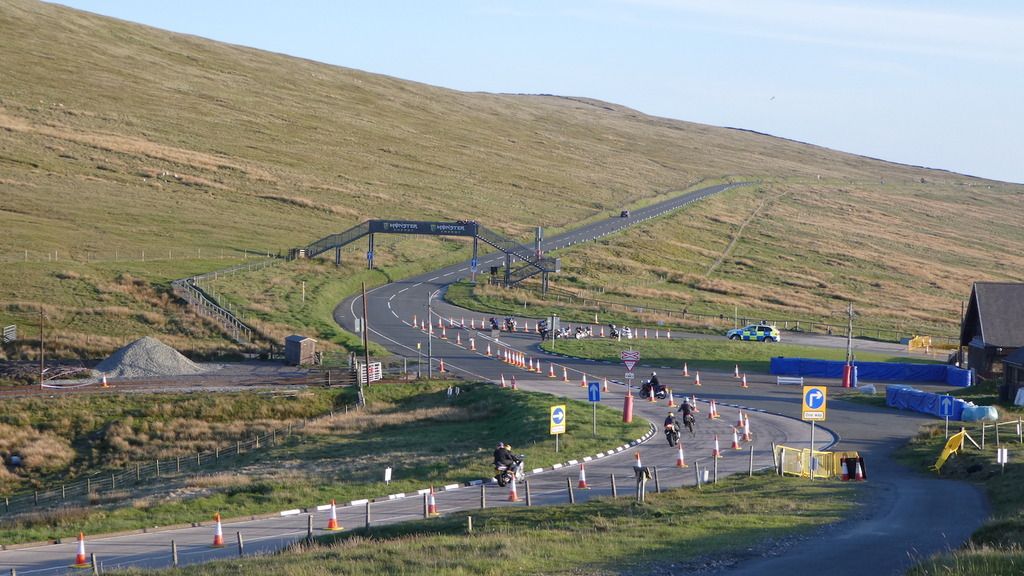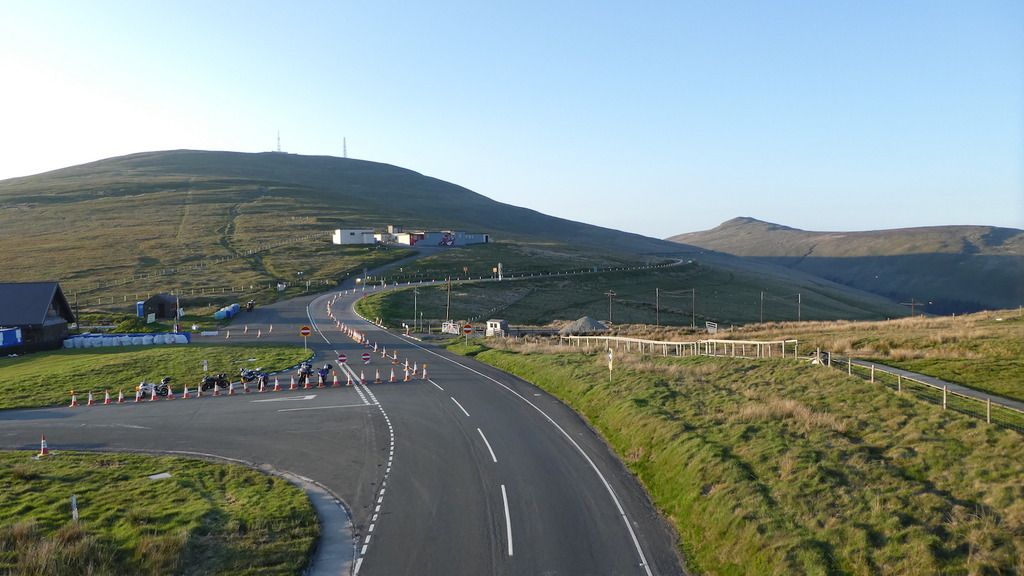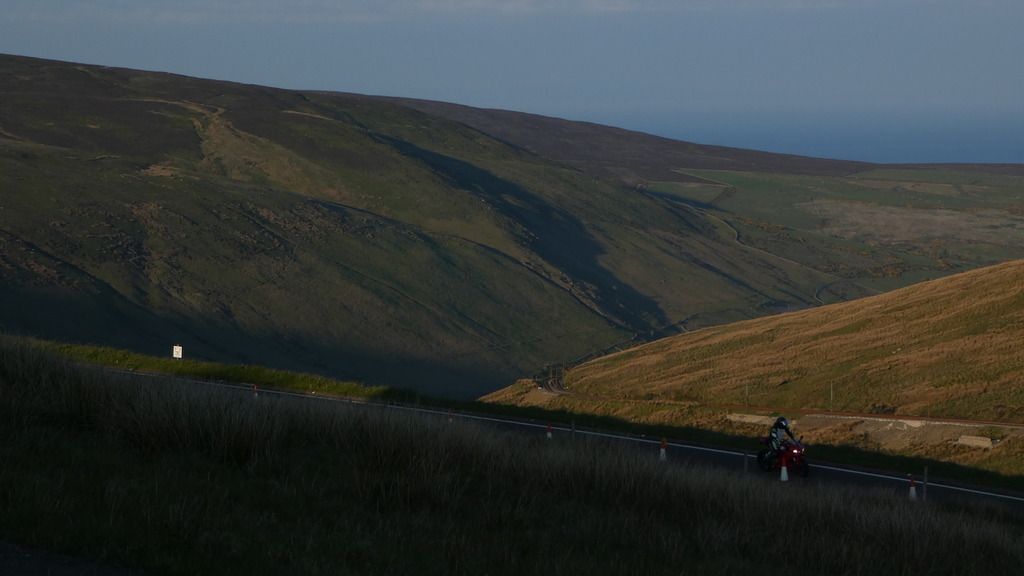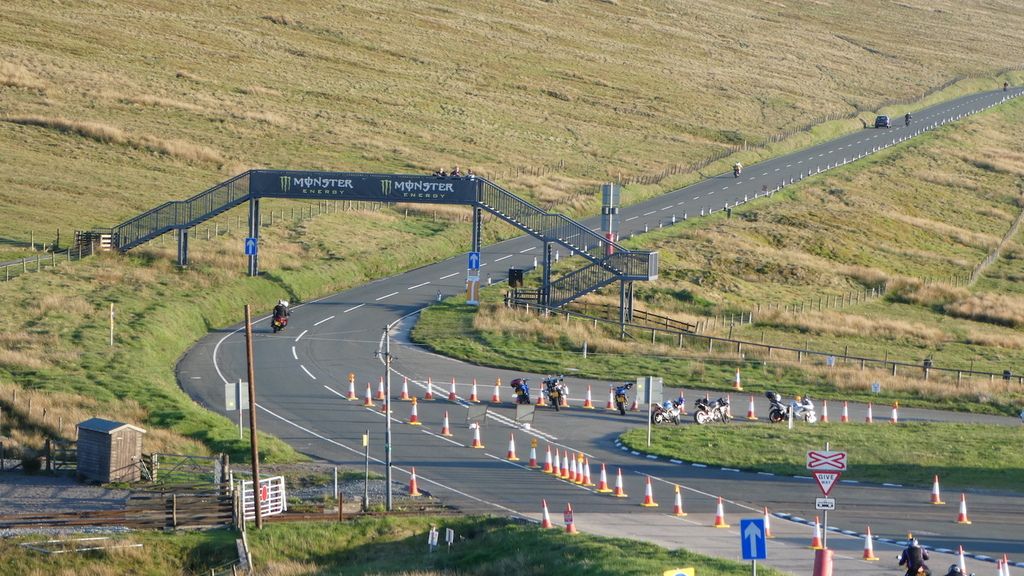 So from this point it is just a flat out snort up and over the mountain.  At the bottom on the other side then you will find a pub, where you can stop again, let the adreleine settle inside you before you cross back into the 'regulated roads.'  From this point speed limits apply and the same as before if you break them, the Police will break your heart!
What do you do now?  Well you go back round again.  37.7 miles of a track of which you can be the racer for at least a few of them.  I'll say it again, crazy.
And that's what people do.  Lap the island.  Enjoy the route and fly over the mountain.  And as yousee from the photos above, what a place it is it.  It is glorious.
And that's what we did.  Until dusk.  Then went for food.  We ended up back in Douglas, it was after 9PM and there wasn't too many places open.  We choose 'Peri-Peri Chicken.'  This bit is easy advice.  Don't.  I got four 'Chicken Strips' – two which were barely edible, two which were certainly not.  The chips were alright at best.  Find somewhere else or wait until the morning, honestly that is a better option!
And that pretty much concludes Day One.  What a place.  I retired to my comfortable room, make a brew, lay down and watch the TV.  Great stuff.  Now I already get why people love this place!